Regular price
$629.00 USD
Regular price
$699.00 USD
Sale price
$629.00 USD
Unit price
per
Sale
Sold out
Purpose:
Pedicures, manicures, and podiatry consultations,Dental procedures and prosthetics
Serious Approach to design: Aesthetics and compactness are the main principles. Looks great in any interior and always sets the style of your nail salon. We developed the nail dust collector 4BLANC completely from scratch. The best nail technicians and salon owners took part in the development.

Power and German reliability: The engine of the German company EBMPAPST is manufactured in St. Georgen represents high performance and reliability with relatively low noise. We have installed a power control for you to choose a comfortable operating mode: turning down the speed reduces the noise level.

Ergonomic: Conveniently mounted to a table, a pedestal or a floor stand. Superflexible pantograph (holder). No awkwardly shaped housing.

Built-in LED lighting: 4-levels of brightness. Shine is bright. LEDs are more effective than conventional lamps and use less energy.

Wide functionality: pedicure, manicure, podiatry, dental and prosthetics. The 4BLANC Alizé nail vacuum cleaner is ideal for professional settings and essential for nail techs who work from home.
Share
View full details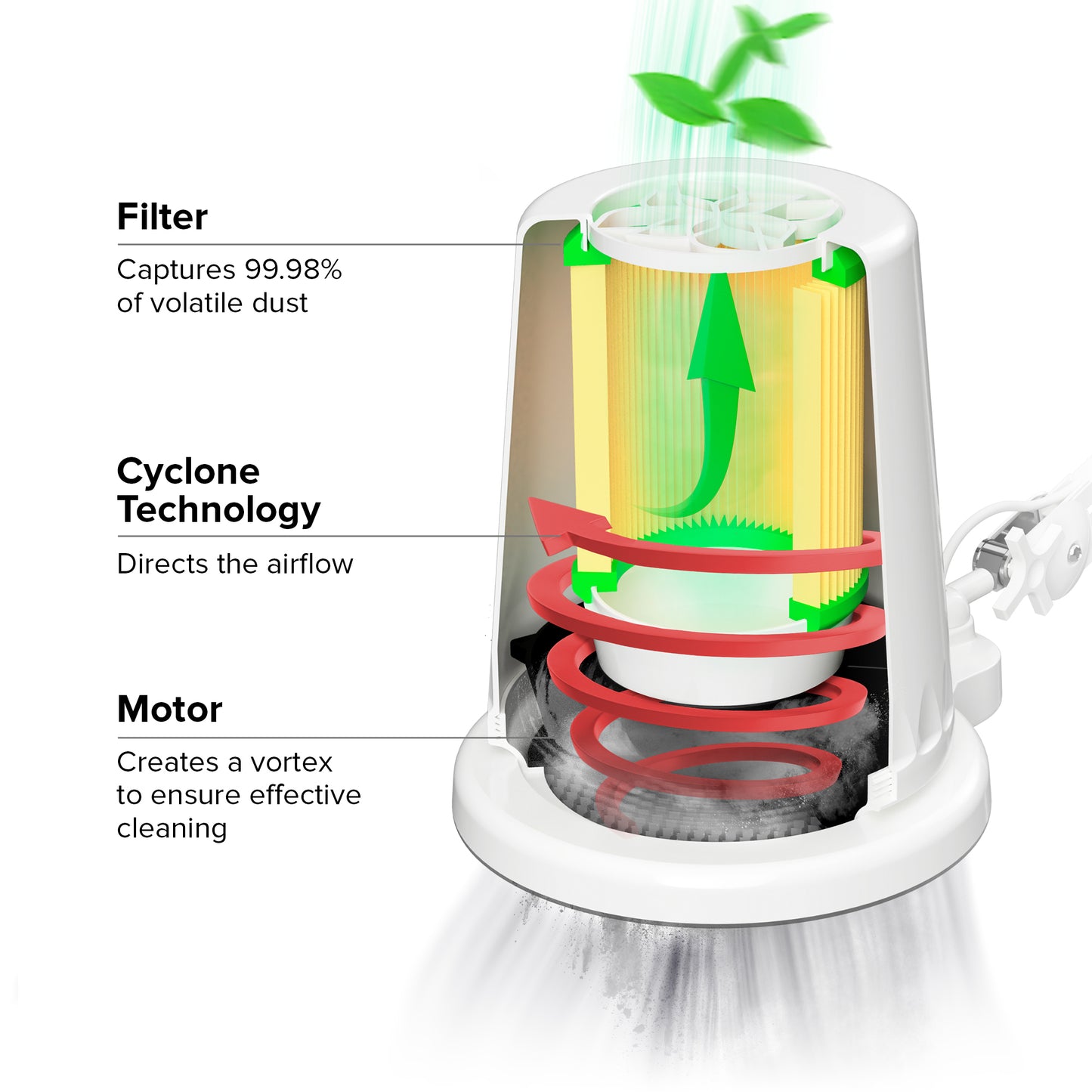 4BLANC Alize Professional Nail Dust Collector and Air Cleaner for Pedicure & Manicure Beauty Salons with Reusable Filter, Powerful Low Noise Nail Fan Vent Dust Suction Machine for Any Nail Polishing
During the manicure and pedicure procedure, especially with nail drills, a huge amount of volatile dust is generated. The main danger is that the dust gets into the mucosal membranes and into the lungs. It causes allergies and provokes serious, often chronic, respiratory diseases. Therefore you can't work without air purification equipment. The 4BLANC nail dust extractor will not collect cuticle trimmings, but will completely rid you of any biomaterial that you may inhale. The powerful engine and specially designed vacuum cleaner blades create a swirling air flow, which is sucked in a "cyclone" way. The air in the nail extractor is cleaned twice. The heavier particles settle in a special dust collector niche. The filter cleans 99.98% of the dusty air from the most dangerous volatile dust. The manicure extractor does not take a separate place. The secure, auto-lock mounting will help you fix the nail vacuum cleaner in the right position. Nail technicians can control the nail vacuum machine from anywhere in the workplace with the convenient power regulator on a long wire. Filter of 4BLANC manicure and pedicure dust collector is developed on the experience of global automotive companies and captures volatile dust particles larger than 3 microns by 99.98%. It is enough only to clean the vacuum dust collector for nails from accumulated dust and change the filter in time. Important: a filter for a nail dust extractor is disposable. As soon as the suction power of the dust collector has decreased, it should be cleaned. The embedded lighting gives a soft, filling and diffused light flow, which allows you to eliminate blind spots, notches, cuts, and other defects as much as possible. The lamp works and is regulated separately to the nail dust collector and has 4 levels of brightness: 25 / 50 / 75 / 100%. Assemble the nail dust collector according to the instructions and be sure to read a manual before you start.
Technical specifications

Motor input voltage: 9-24 V
Motor power consumption: 14-36 W
Energy consumption class: A
Suction power: 475 aVt
Engine speed: up to 5,000 RPM
Package dimensions: 26x16x12 inches
Package weight: 1,200 lbs
Net Weight: 9 lbs
Luminous flux: 1200 lm
Color temperature: 5,600 K
Input voltage: 18.5V
Current strength: 0.55 A
Lighting power consumption: 14 W

Setup Guide
Amazing customer services
I ordered item in UK
Item was faulty I was was worried about customer service and exchange. However customer services extremely quickly replay I I got new item in 2daysss!!! Amazing, highly recommended
Голова пылесоса как-то плохо фиксируется и все время падает.